kitchen Renovation Calgary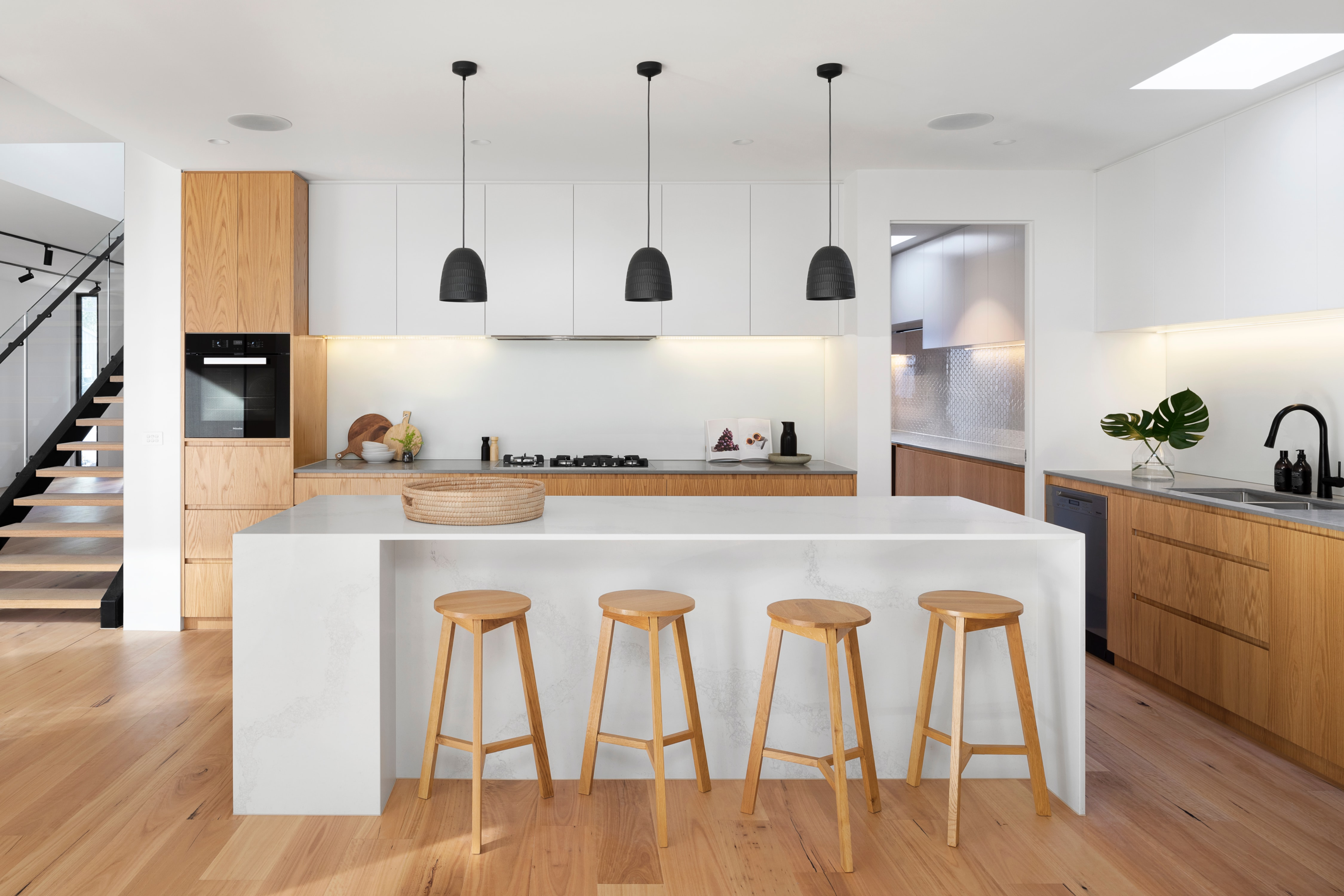 Worn cabinets. The flooring is peeling. The appliances are outdated. If your kitchen appears to be from another generation, it may be time to renovate. But where do you start? And how do you ensure the result is a kitchen you love?
Kitchen renovation is a big project. And like any big project, it takes careful planning and execution to get it right. That's why we've put together this kitchen renovation guide. It covers everything from budgeting and design to construction and material selection. So whether you're just starting to think about a kitchen renovation or ready to start tearing down walls, we can help you get the kitchen of your dreams.
The Benefits of a Kitchen Renovation
A home renovation project is a popular topic these days. And it's no wonder. Renovating your home can increase its value, make it more comfortable to live in, and make it feel new. But when it comes to home renovations, kitchens are often one of the most popular renovated rooms. That's because a well-designed kitchen can be the heart of the home. It's where we gather to cook, eat, and socialize. And when it comes to resale value, kitchen renovations are often one of the best investments you can make.
There are significant benefits to upgrading your kitchen. Here are just a few:
Increased Value
Renovating your kitchen can increase its value by a significant amount. A recent study found that kitchen renovations can add up to 82% of the renovation cost to the home's resale value. That's a huge return on investment! So if you're considering selling your house shortly, a kitchen renovation is something to consider.
More Comfortable
When you renovate your kitchen, you can make it more comfortable to live in. You can add features like a breakfast nook or a kitchen island, giving you more counter space and storage. You can also add new cabinets, providing more storage space and making your kitchen look more up-to-date. And if you have a small kitchen, you can add a pantry to help you store more food. These are just a few ways you may improve the comfort of your kitchen.
More Space
If your kitchen feels cramped and cluttered, then a renovation can help. A kitchen remodel can be an excellent method to improve the usefulness of your space. Often, kitchens contain wasted space that can be turned into more storage, seating, or room to move. By redesigning the floor plan, you may make the most of your existing living space and make your kitchen more beneficial for your requirements.
Better Layout
A well-designed kitchen has a good layout. That means the stove, sink, and fridge are in the correct triangle so you can move around easily. Additionally, it implies that the placement of the cabinets and counters is appropriate for how you utilize your kitchen. If your current kitchen layout doesn't work well for you, a renovation is an excellent opportunity to fix it.
Greater Energy Efficiency
One of the benefits of renovating your kitchen is that you can make it more energy efficient. It may save you money on your energy expenses in the long term. There are many ways to make your kitchen more energy efficient, including installing a new kitchen sink, faucet, and countertops made from sustainable materials. You can also install a new energy-efficient refrigerator or oven. And don't forget to install LED lighting throughout the kitchen.
Enhanced Style
Finally, a kitchen renovation can give your home a new look. If your kitchen looks tired and dated, a renovation can breathe new life into the space. Remodeling your kitchen can help you achieve either a modern or traditional look.
A Typical Kitchen Renovation Cost in Calgary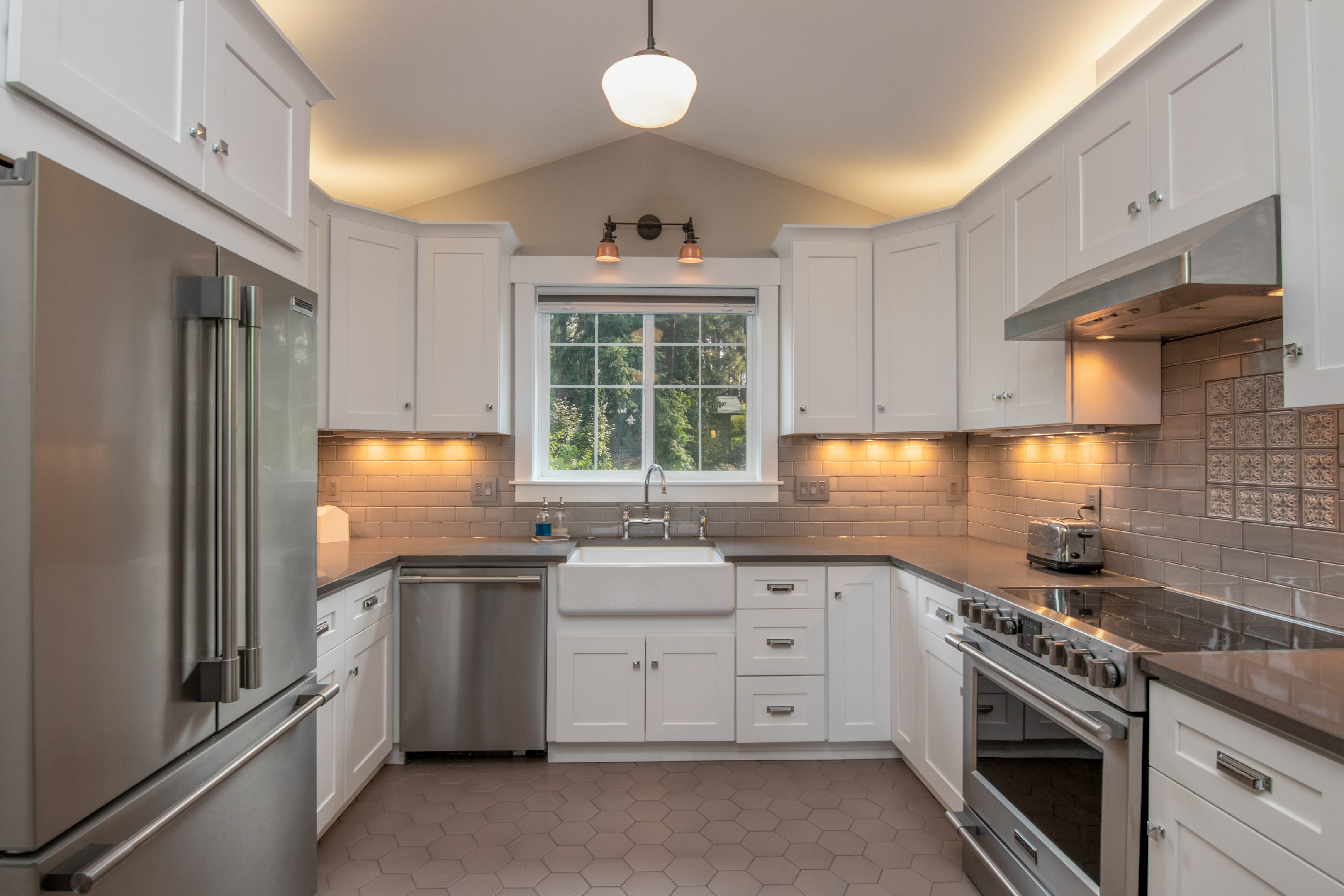 Never start a kitchen renovation project without knowing how much it will cost and without a clear budget. The kitchen renovation costs vary depending on many factors, including the size of your kitchen, the materials you use, and the professional kitchen contractor you hire to help you with the project.
The average kitchen renovation cost in Calgary is $15,000 to $30,000. However, if you want to add high-end finishes and appliances, the overall kitchen renovation cost can be as high as $100,000.
Let's take a look at some estimated prices for different aspects of a kitchen renovation project:
Cabinet Installation
Cabinet installation is one of the most crucial components of a kitchen remodel. That's because cabinets take up a lot of space and can make or break the look of your kitchen. The cost of cabinet installation depends on the type of cabinets you choose.
Stock cabinets are the most affordable option, starting at around $100 per linear foot. Semi-custom cabinetry is more expensive, starting at about $150 per linear foot. And custom cabinets are the most expensive option, starting at around $500 per linear foot. On average, you can expect to spend $5,000 to $15,000 on cabinet installation.
Countertop Installation
Most homeowners in Calgary choose to install granite countertops in their kitchens. Granite is a durable material that adds value to your home. The cost of granite countertop installation starts at around $3,000.
Other popular materials include laminate, solid surface, and quartz countertops. The cost of these materials ranges from $2,000 to $5,000.
Flooring Installation
The cost of flooring installation depends on the type of flooring you choose. Tile and hardwood are two popular choices for kitchen flooring. The cost of tile installation starts at around $3,000, while the cost of hardwood installation starts at approximately $5,000.
If you're on a budget, laminate flooring is a good option. The cost of laminate flooring installation starts at around $2,000.
Backsplash Installation
A backsplash is an excellent way to personalize your kitchen. It can also shield your walls from spills and splashes. Many material options are available for installing backsplashes, including glass, ceramic tile, stone, and metal.
You can put a backsplash next to your cooktop, sink, or prep area. The average cost of a new backsplash in Calgary is $1,000 to $4,000.
Appliance Installation
The installation cost of new appliances starts at around $500. However, the cost of high-end appliances can be as much as $2,000.
When purchasing new kitchen appliances, look for energy-efficient models. Energy-efficient appliances can save you money on your energy bills in the long run.
Most Popular Kitchen Renovation Trends in Calgary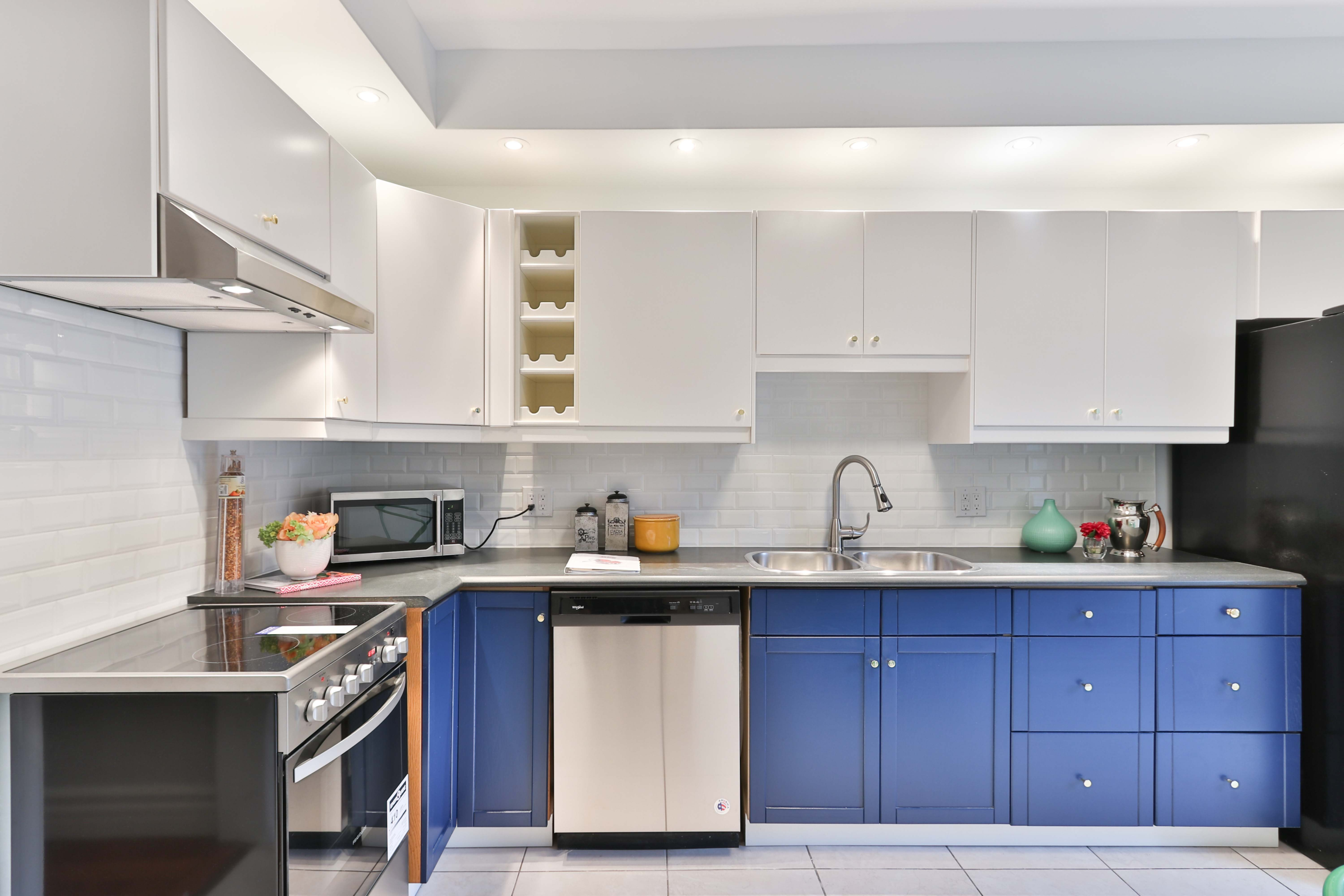 A kitchen is frequently the center of a home; it should be a space that expresses the family's personality while still being stylish and timeless. When choosing a kitchen, it's crucial to think about what will be practical for your lifestyle and what you'll enjoy using every day. Some of the most popular features in kitchens right now include on-trend colors, new cabinet looks, and popular styles. If you're stuck for ideas, consider some of the most popular in Calgary right now.
Neutral Colors for Harmony
The goal is to create a soothing and comfortable space using soft pastel colors reminiscent of nature. Our pick of the year is sage green, which pairs perfectly with beige, cream, and sandy tones. Try using colder colors like gray, green-gray, and sky blue to create some contrast. They blend in well with woody textures!
Hidden Storage for a Clean Look
In this era, we have more stuff than ever, so it's essential to have plenty of storage. However, you don't want your kitchen to look like a storage unit! One way to achieve both goals is to use hidden storage. Some popular options include cabinets with sliding doors, drawers that open from the side, and corner cabinets with rotating shelves.
Multi-Functional Islands
Islands are a popular kitchen feature because they provide extra counter space and storage. However, they can also be used as a place to eat, prep food, or even do homework! If you have the area, consider adding an island to your kitchen.
Minimalist Kitchen Design
The minimalist kitchen trend is all about simplicity and functionality. The focus is on having the essentials and getting rid of anything that isn't necessary. It includes removing decorative elements, such as cabinets with glass doors and opting for plain white walls.
Two-Toned Cabinets
One of the most popular cabinet looks right now is two-toned cabinets. It involves painting the upper cabinets one color and the lower cabinets another hue. It is a great way to add some contrast to your kitchen and make it more interesting. Some good combinations include black and white, brown and white, or gray and white. 
Smart Appliances
As technology progresses, smart appliances become more prevalent. These are appliances that can be controlled using your smartphone or voice commands. Some examples include refrigerators that track your grocery list, ovens that preheat themselves, and dishwashers that start when you're not home.
Stunning Backsplashes
Consider a backsplash that extends to the ceiling if you want to add flair to your Calgary kitchen renovation. Bricks, stones, and tiles can create a more atmospheric and exciting look. If you're unsure what material to use, consider glass or stone tiles. They are simple to maintain and clean and available in a wide variety of color combinations and designs.
Tips for a Successful Kitchen Renovation in Calgary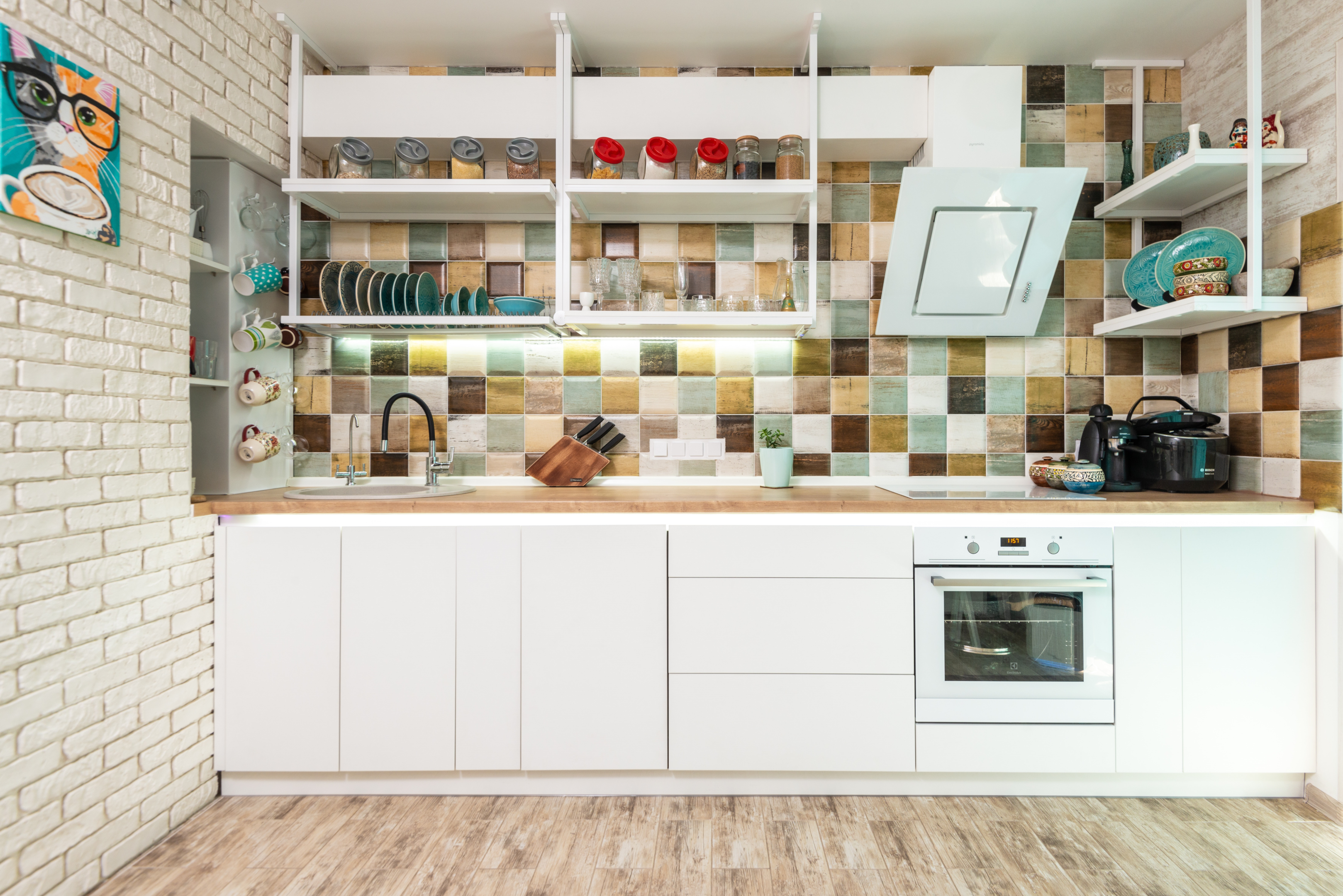 To help create your dream kitchen, we've put together a list of tips to keep in mind during your renovation.
Plan Ahead
When remodeling your kitchen, taking your time in the planning stages is essential. It will help to ensure that the construction process goes smoothly and that you stay on budget. The National Kitchen and Bath Association recommends beginning planning for a project at least six months in advance. It will allow you ample time to make necessary adjustments and prevent the need for change orders, which can drive up the project's total cost.
Get Organized
It is vital to create a timeline and budget for your kitchen remodel. It will help you stay on track and avoid overspending. To get started:
Create a list of everything you want to accomplish in your new kitchen and put it in order of priority.

Research the cost of each item and create a budget.

Once you know what you can afford, start looking for contractors and getting estimates.
Set a Realistic Budget
When setting your budget, be realistic about materials and labor costs. It is also crucial to consider the cost of appliances, cabinets, countertops, flooring, and other finishes. In addition, you will need to consider the cost of permits and inspections. It is best to consult a kitchen designer or contractor to get an accurate estimate.
Don't Forget the Details
In addition to the major purchases, there are several more minor details that you'll need to take care of during your kitchen renovation project. These include things like cabinet hardware, faucets, lighting, and backsplashes. Make sure that you include the cost of these things in your budget before you end up spending more than you intended to.
Quality Over Quantity
Choosing quality over quantity is essential when selecting materials for your kitchen renovation project. It is especially true for items like cabinets and countertops, which will get a lot of use. In addition, be sure to choose appliances that are durable and energy-efficient. By being quality-conscious, you can save money in the long run.
Get Creative With Storage
If you're short on space, get creative with your storage solutions. There are several ways to maximize storage in a small kitchen. For example, you can install shelves above the sink or fridge. You can also use cabinet organizers to make the most of your space. Consider a wall-mounted pot rack or a hanging herb garden if you're short on room.
Choose the Right Colors
When choosing colors for your entire kitchen, it is essential to consider the overall look and feel of your home. Choose hues like yellow or green to create a bright and joyful environment. For a more sophisticated look, choose muted tones like gray or beige. Consult with kitchen designers if you're unsure about the colors to use.
Lighting Is Key
Good lighting is essential for any kitchen renovation project. Not only does it help to create a warm and inviting space, but it also makes cooking and cleaning easier. When planning your lighting, be sure to consider task lighting, accent lighting, and general lighting. Installing pendant lighting or lighting that goes beneath the cabinets is another way to add visual appeal to your room.
Think About the Future
Styles in kitchen design come and go, but certain features will never go out of style. When planning your renovation, consider the longevity of your choices. For example, stainless steel appliances are a timeless choice that will never go out of style. Similarly, classic subway tile backsplashes will never go out of fashion. By choosing long-lasting materials, you can build a kitchen that will stand the test of time.
Hire a Professional
While it is possible to do a kitchen renovation project yourself, hiring a professional renovation company is best. It will ensure that the job is done correctly and that the essential licenses are secured. In addition, professional renovation companies will be able to help you stay on budget and schedule.
Trusted Kitchen Renovation Contractors in Calgary
When it comes to Calgary kitchen renovations, you want to make sure you pick a reputable and experienced contractor. Many things can go wrong during a renovation, so choosing a company with a good reputation and plenty of experience is crucial.
YYC General Contractors is the leading kitchen renovation contractor in Calgary. We have over 25years of experience and have completed hundreds of successful renovations. We're a family-owned business, so we understand the importance of communication and customer service. We'll work with you to create a perfect kitchen for your needs and budget.
We specialize in kitchen renovation, and we've worked on all kinds of projects, from small condo kitchens to large country estates. Whatever your vision is, we can help you make it a reality.
Other services we offer include:
Check our website to learn more about our services and to schedule a free consultation.
Why Choose YYC General Contractors?
Our designers will work with you to create a kitchen renovation that reflects your personality and is functional and safe. We will replace your kitchen cabinets and countertops and add square footage to your home. We will re-configure your plumbing and electrical to create the perfect kitchen for you. Our team will adhere to the National Kitchen and Bath Association's rules and guidelines and the Alberta Building Code to ensure your kitchen renovation is successful.
Here are a few essentials that separate us from the competition.
We Are Licensed and Insured

We Use The Latest Technology

We Maintain Excellent Communication

We Have a Team of Experienced Professionals

We Offer Competitive Pricing

We Provide a Warranty on All of Our Workmanship
Schedule a Free Consultation Today
If you're ready to start planning your kitchen renovation in Calgary, we're here to help. Call us at 403-852-6833 or email at info@yycgeneralcontractors.ca to schedule a free consultation. We'll sit down with you and discuss your vision for your new kitchen. We'll answer your questions and provide you with a detailed quote. Call us today to get started on your kitchen renovation!
Kitchen Remodel IN Calgary Ab
We are proud of the work we do for our customers. When it comes to remodelling your kitchen or bathroom renovation, there is no better company than ours!
Our three step process ensures that you get a beautiful and finished product every time.
With Proper planning we can ensure that your project stays withing budget and is completed on time
We begin the renovation project based on the plan we created. Making sure to minimize the impact on your home
Rest assured that your project will be completed with the utmost professionalism and we will work with you until your happy with the final project