HOME CALGARY BASEMENT RENOVATIONS: ALL YOU NEED TO KNOW
Have you been planning to do your basement renovations or do you want to finish up with your abandoned basement but don't know how and where to get started? No doubt, basement renovations, and basement development projects can be quite challenging. However, handing the job over to professional basement builders takes the burden off your shoulders at a reasonable cost.
In this guide, you will find all you need to know about basement renovations; starting from why you need a basement development, how to hire the best renovation company for your basement project, the average cost of a basement renovation, and hiring the best basement renovation company in Calgary.
Why Do You Need A Basement Renovation
Why do you need a basement renovation? Are you always hiding your basement away from your visitors, because it is in a bad shape and abandoned? If Yes, here are five compelling reasons why you need to do your basement construction
Finding the right basement renovation contractors can be a little bit confusing but you will learn how to carefully select the best ones.
1. Increase The Value Of Your House
A house with a fine and well-developed basement is an added advantage and has a better chance in the marketplace. 
Therefore doing your home renovations can add much value to your house, it will increase its worth exponentially.  According to research and statistics, you can get as high as 70 % return on investment of your basement development investment. Finishing your basement can serve as a point of interest to many buyers. So if you don't have a plan to develop your basement, it's time you incorporate it into your plan.
2. Improves Your Home Health
Oftentimes, most houses have abandoned basements, which are untidy and can reduce the lifespan and longevity of your home. According to reports, 80% of the basement has leakages and houses many conditions like poor ventilation and cold which can pose a threat to you and your family's health.
Similarly, leakages can shorten the longevity of the materials used in the construction of your home. Therefore well developed basements can protect you and your family from different health hazards and at the same time promote the lifespan of your house.
However, if you would probably start your basement development project ensure to hire renovation companies and basement builders that will properly investigate your basement well for leakages, insulate the wall and check the surrounding area
3. Extra Living And Utility Space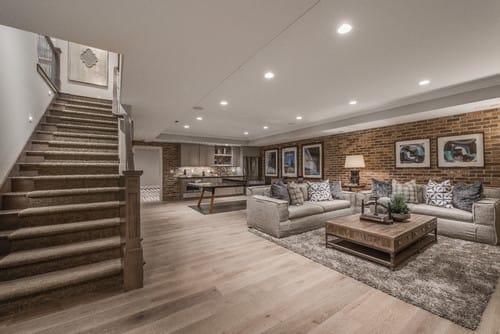 One of the most important reasons why you should do your basement development is to acquire extra basement space and utility space. You might decide to add more extra bathrooms, sitting area, kitchen, and extra bedrooms or convert the space for utility purposes, like having a home gym, libraries, wet bars, laundry room, pot lights, games room, gas fireplaces, home theatre, and others.
4. Create A Guest space
Do you often receive guests or do your relatives always come visiting and you don't have extra spaces on your main floor to accommodate them?
Renovating your basement can give you more extra space to create a Guest house and guest suite. With this, you are not only making them comfortable but also giving them their privacy in your own home.
Incorporating an extra bedroom means extra work will be done in the basement, you will need to do the ceiling, egress windows, insulate the wall, and do some plumbing work to make the basement comfortable for living.
5. Money Making Unit
You would be surprised to find this on the list, but finishing your basement can serve as a money-making unit for you. You might have more than enough space for you and your family on the main floor and probably do not need extra space at the moment. However, renovating your basement can serve as a money-making unit for you by renting or leasing it out.
Having now realized why you need to get that basement shining, you should be concerned about how to hire the best renovation company and project managers to execute the job for you.
How To Hire The Best Renovation Companies
Home renovation is a necessity! But having the best basement renovation company and professional basement builders can be a little confusing. Renovation involves remodeling an existing basement into a new and different form.
Therefore an expert project manager and a contractor are needed for this purpose. However, we will be walking through some tips on how to evaluate and choose the best renovation company to help you actualize your dream basement into a reality.
1. Recommendations
The number one thing to do is to get recommendations about the basement renovation companies, go online, do your research and seek Recommendations about them. Similarly, you can also engage with their previous clients and get their recommendations.  
2. Interview Them
After seeking recommendations, the next thing you should do is to have an interview with them probably over the phone. Engage them with the following questions
Do they have relevant experience?

Do they take on similar projects like yours?

Can they provide you with a list of their previous clients?

How many projects can they handle at the same time?

Do they have a building permit?
3. Meet Physically
After having a phone interview with them, you should probably set out some time to fix an appointment and meet with them physically to further discuss the project. However, while meeting with contractors, don't be carried away by their personality, endeavour to do some underground research to find out if they have any history of dispute with their clients, subcontractors
4. Investigate the Facts
Yes, you must verify all facts about the renovation company you will be considering hiring. Reach out to the list of previous clients provided by them, engage them to ask how their project went, and also request to see the finished product too. Similarly, you can visit their ongoing work on a site, to see how they work. Is it safe and neat? Are they handling the property carefully ?.
5. Plan, Plan, And Get bids 
Yes, it's time to focus on your project, plan out the entire process with the shortlisted contractors, and Get bids from them. You can get bids from 2 to 3 renovation companies and compare them together, generally, the cost of material constitutes 40 % of the estimate.
6. Make A Payment Schedule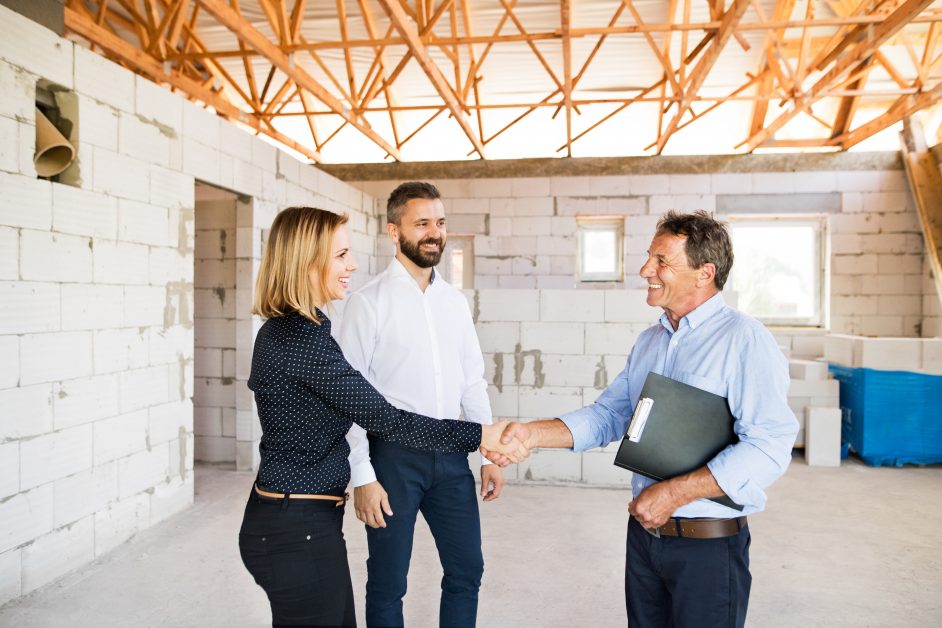 After getting bids from the basement development company, the next thing you should do is set a payment schedule with the contractor, and let them know whether you will be making full payment after the whole project is completed, or you will be paying it in a milestone. Sometimes, some contractors can bid for half upfront before they commence work. 
7. Don't Let Price Be The Determining Factor
You shouldn't go for a contractor just because he offers to render his service at a lower price than others. But ensure the company is competent enough and has the expertise to do the job. You should rather get a professional contractor to do the job and give you quality basement renovation at a fair price than give it to a contractor that would charge less and do a mediocre job.
After doing all this, it is important to put the whole process into writing and writ all the details of the contract, the project duration, the payment schedule, and every other detail of the contract.
Average Cost Of Basement Renovation In Calgary
There are a lot of things to put into consideration before determining the cost of basement developments in Calgary. Basement renovations cost differs by the project and this can be due to factors including the current state of the basement, the size, and the design you want to see.
If you are planning to incorporate more extra living space, do more interior designs, exterior renovations bathroom renovations, and other utilitarian spaces, the cost can often get higher.
The cost of basic basement development in Calgary can cost up to $4000 and can go up to $80,000 for a more standard and sophisticated one. However, the average cost of basement development is around $20,200.
Furthermore, the prices are above are not fixed, some other factors like the cost of materials can affect the cost. The higher the cost of the materials, the higher cost of the renovation.  Similarly designs and basement ideas you want to do also affect the cost of basement development.
Moving on, it's time to hire the best basement renovation company in Calgary to help you turn an old basement into the new basement you admire. 
If you have been looking for the best basement renovation, or home renovation company in Calgary ab, search no more. YYC General contractor is the best and leading basement finishing, and kitchen remodeling company in the whole of Calgary ab we have over 25 years of experience and we have been able to maintain and remain the best in the market due to our high-quality service and exceptional customer satisfaction
At YYC General contractor, we understand that people are number one and one of our core values is integrity, that is why give our customers the best renovations
At YYC General contractor we specialize in basement developments, kitchen remodeling, custom cabinets, bathroom renovation, drywall services, painting and flooring, interior design, exterior doors installation, and general home renovations in Calgary.
Why Choose YYC General Contractor
At YYC General contractor, we provide the highest quality service at the most reasonable price possible to help you save money. We are dedicated to giving our clients the ultimate renovations and giving value for their money. Why choose us?
1. Relevant Experience
We have over 25 years of experience, and we have been constantly and consistently providing top-notch and outstanding design over the years. We have worked with hundreds of Calgary homeowners in the last decade and our service speaks for itself.
2. Excellence, Skills, And Quality work 
At YYC General contractor, we have employed only the best technicians in the market to handle your project and deliver customer satisfaction.
3. Transparency
At YYC General contractor, there are no hidden fees, we are 100% transparent with our fees and deliver far above your expectations. As we are a local company, we give our client the exact cost of materials to be used with no hidden costs.
4. Highly Professional Staff
At YYC General contractor, we are a team of extremely professional staff working together to give you the best. Every member of our team has spent decades in the home renovation industry in Calgary.
What Our Customers Are Saying About Us?
We are a company loved and appreciated by everyone we have worked with. Our clients are completely satisfied with our service. We have been able to earn too many good reviews and 5-star rated badges due to our uncompromised high-quality service over the years. Our clients are extremely pleased with our final product and rate at the same time.
Visit our site and get a free consultation from us, tell us what your plan is, tell us how you want your house to look like, and watch us transform your house into your dream house. At YYC General contractor, we also offer suggestions to our clients and help them make better decisions by giving them suggestions on basement new ideas and designs.
Reach out to us today, share your plan with us, get a quote from us, hire and set a contract with us and Feel the difference!!!
Frequently Asked Questions
Below are a few questions we have found our users and customers ask very often and we have provided relevant answers. They'll help you both now and for your future projects.
How Much Does It Cost To Renovate A Basement In Calgary?
The cost of renovating a basement can be as low as $4000 and can get as high as $80,000, depending on a series of factors already mentioned above.
Do I Need A Permit To Renovate My Basement In Calgary?
Generally, most times you do not need a permit to renovate, especially when you are remodeling an existing basement and doing interior designs.
How Much Does Basement Add To Your Property?
According to the cost versus value analysis, it is believed that you can get as high as 70% return on investment on your basement reno money.
What Will Happen If I Finish My Basement Without Permit?
You will need a permit when developing your basement from the scratch, especially when you trying to remodel your basement into a new one entirely. However, you would not need a permit to renovate an already existing one.